Universal Spirituality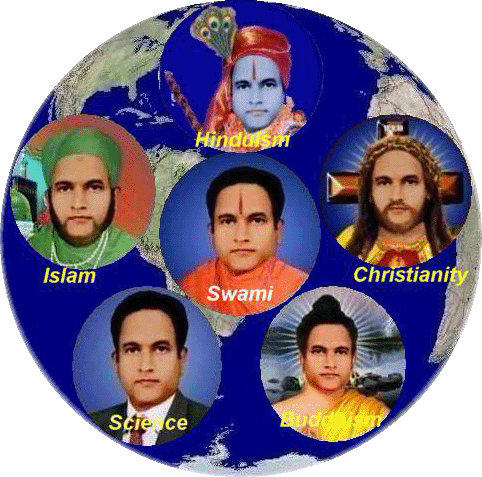 The same Lord (Swami) appeared in the decorations of Jesus, Mohammed, Buddha, Scientist, Rama, Krishna, Shiva etc., to show that the same God exists in different incarnations. Unfortunately in the pictures of God such a concept is not obvious. When we see different pictures or images of God, they appear quite different from each other and give the psychological impression that the 'Gods' are different. Even in Hinduism, in which the same God is supposed to have taken different forms, this concept is not clearly reflected. The face being the important identity of any person, uniformity in the faces of different incarnations of God is essential. This alone will bring out the true concept. It has not been done with the idea of self-projection or self-advertisement. This is done with the background of the most important concept that all the forms of God, not only in Hinduism but also in different religions, are merely different roles taken up by the same Actor, who is the Universal God.
Do Hell and Heaven Exist?
This universe is infinite. I am unable to show the existence of these super worlds to you. I accept my incapacity. But you are also incapable of directly proving the non-existence of these super worlds. Have you searched all over the universe and said "Here ends the universe. Beyond this point there is no universe. This is the compound-wall of space. Your super worlds do not exist anywhere"? Therefore, there is an equal chance for the existence and non-existence of the super worlds according to the theory of probability. Now let us analyze both our cases. Both of us are eating to live. The basic needs are satisfied in the cases of both of us. You have spent your extra time in earning more money, which may give you some problems of health like diabetes, blood pressure, due to over-enjoyment. I have not earned more money and I am healthy due to normal food. None of us will carry the money with us after death. The money given to the children may also be lost in several ways. Therefore, I do not find much difference between us, once the basic needs are satisfied. I am poor because I have spent my extra time in the service of God. Suppose after my death, you are correct and there are no super worlds. In such a case what I have lost? There is no loss for me. But after your death, suppose I am correct and there are super worlds. You have lost every thing and God will not save you. Thus, even if we assume equal probability of existence and non-existence of heaven and hell, it is better to serve the Lord by sacrificing your extra time and energy for the Lord, after meeting your basic needs. You must read the theory of probability, which is perfectly a scientific theory.
Which is the True Religion?
If you say that your religion is the only path to God and that other paths lead to hell, I have one humble question for you. This question applies to followers of every religion without any trace of partiality. The simple question is: Today I have heard your religion and if I follow that, I reach God while if I refuse, I will go to the hell for my own fault. This is very much reasonable. But before your ancestors discovered the country I come from, the scriptures or even the name of your religion was not known to My ancestors and they could not reach God for no fault of theirs. On the other hand, your ancestors followed your religion and reached God at that time. Even if I assume that My ancestors will take rebirth in the present time and will follow your religion to reach God, such a possibility is ruled out because you say that there is no rebirth for the soul. Thus My ancestors suffered forever for no fault of theirs. The only conclusion that can be drawn from this is that God must be partial. Had the God been impartial, He could have revealed your religion to all countries at the same time. Had that happened, My ancestors might have also reached God as your ancestors. Therefore your statement proves your own God to be partial.
The only way to make your God impartial is that you must accept that your very God appeared in all the countries in various forms at the same time and preached that only true path of your religion, in various languages. He did not appear in the same form everywhere and neither did He preach in the same language. However the subject matter was the same-divine knowledge. The syllabus and explanations were one and the same, though the media of instruction (language) and teachers were different. Thus the religion that God gave to your people and country is not different from the religion that the same God gave to other people in other countries in different languages. Can you give any alternative reasonable answer to my question other than this? Certainly not! Whenever you claim your religion to be the one and only path to God and whenever you condemn other paths, remember that any person of any religion can pose this question to you.
Moreover every religion claims that their God alone created this world. Unfortunately this world is only one and every God cannot create the same world; there are not many worlds to justify each God creating His own world. Therefore any human being with an iota of commonsense has to agree that there is only one impartial God who created this one world. He alone came in different forms to different countries and preached the same path in all the languages simultaneously at one time.
Sword of Divine Knowledge
Let the sword of the divine knowledge and logic cut the rigid conservatism of religious fans (fanatics) in this world to establish universal peace. I need not beg all these religious followers to be united and harmonious with each other for the sake of world peace. Enough of such begging and appeals were made in the past. The religious fans (fanatics) feel that although there is no unity in the religions in reality, they have to be united, since their kind hearts are melted by these appeals. Thus only temporary changes were brought about by such appeals. At the most, a generation of the followers remained united. The next generation resumed their fights with each other because they felt that there was never any real unity between the religions. They feel so due to lack of unity in their religious scriptures. Thus a permanent solution for this does not lie in appeals, which may or may not unite the followers of different religions, and even if they do unite them, the unity will be only temporary. Only when the real unity in all the religious scriptures is revealed through a logical analysis of divine knowledge, the followers will be united for generations together. Therefore, My attack is not on the hearts of the followers through love and kindness. My attack is through the intellectual logical analysis of divine knowledge given in all the religious scriptures. Unity of hearts through love can only be temporary. Unity of brains through intellectual analysis of divine knowledge alone will be permanent. Hearts agree but brains realize. Agreement is temporary, but realization is permanent. Thus this is My first trumpet of My divine conch for the permanent unity of all the religions aimed at eternal Universal Peace.
- Shri Datta Swami